Meet our staff
At your service!
South Island Physiotherapy
South Island Physiotherapy Staff
Colin Beattie
Physical Therapist
Read Colin's Bio
Hi there! My name is Colin and I'm one of the Physical Therapists here at South Island Physiotherapy. I've spent my entire career with persistent injuries; developing a deep understanding of the complexity of the pain experience while also refining my clinical reasoning in order to quickly and confidently guide people out of discomfort and into a successful recovery. Through this, I've learned that changing pain is not complicated but leaving it behind can be. My job is to establish a clear and actionable pathway to your best life. In a session with me, you can expect an attentive ear, a curious mind, and prioritization of your unique values and needs. It is this approach that has helped me earn a spot among the top three Physical Therapists in the city by threebestrated.ca since 2017. So before you call and book take a moment to get excited about how you want your life to look and remember, the journey to well-being isn't an easy one but it can be simple. See you soon!
Alec Myring
Physical Therapist
Read Alec's Bio
Hi! My name is Alec and I am one of the Physical Therapists at South Island Physiotherapy. Throughout my career I have seen a wide variety of injuries, walked many people through recovery, and have come to realize they all share one thing in common. Pain is complicated but recovery doesn't have to be. A session with me seeks to empower you with an understanding of your symptoms, find avenues to recovery that are actionable, and provide clear guidance through structured planning.
I completed a Bachelors of Human Kinetics in 2007 and a Master of Physical Therapy in 2011 at UBC.
I'm a certified Gunn IMS practitioner and often provide IMS as a treatment option in my sessions.
I have numerous credentials in manual therapy. When appropriate spinal manipulation therapy is a safe and effective part of my practice.
I have a broad knowledge base in Strength and Conditioning and regularly ask my clients to perform tasks in the gym that they didn't think possible.
I have a history with contact and collision sports. Having represented Canada at two consecutive Junior World Cups of rugby I'm no stranger to pain, injury, and recovery.
I joined the world of ultra running in 2018 and have completed multiple 100km, 80km and 50km trail races.
I'm ready when you are. Make your move!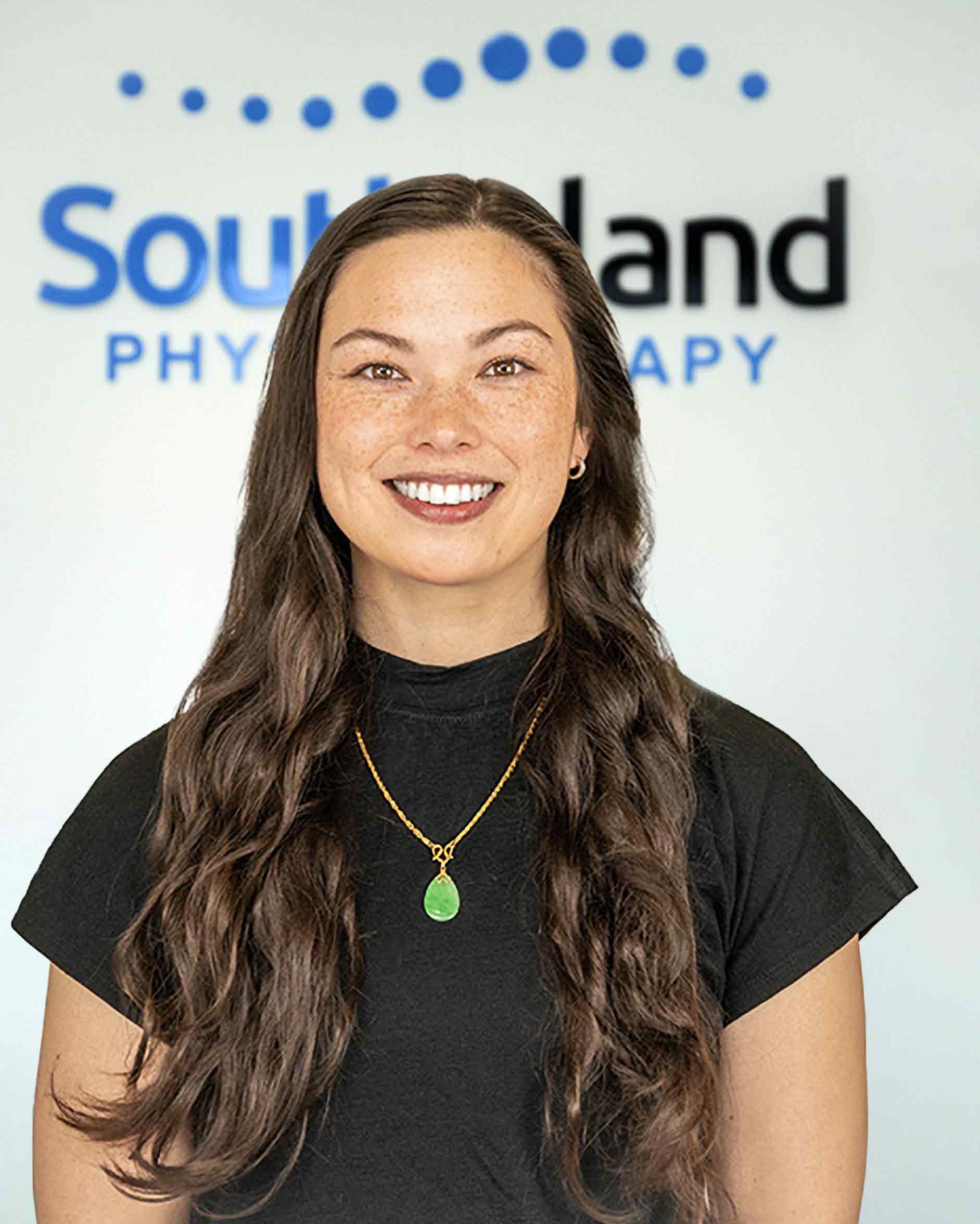 Kaitlyn Wong
Physical Therapist
Read Kaitlyn's Bio
Hi, my name is Kaitlyn and I am one of the physiotherapists at South Island Physiotherapy.
Too often during my sessions people share with me that activity avoidance is recommended by their medical professionals to avoid pain or symptoms. This may be temporarily effective but it is my experience that life is too short to compromise on what you enjoy. I believe there is always to get back to creating a happy and fulfilling life.
My job is to help you bridge the gap between what you can do now and what you want to be doing. With careful testing, planning, tolerance building, retesting and a bit of patience and persistence we can work to return to your preferred activities. Your job is to come with a goal, ask questions and put in some work!
One of my main professional interests is the female athlete through her lifespan. I have taken post-graduate courses in pelvic health including incontinence, pelvic organ prolapse, pelvic pain conditions and pregnancy and postpartum exercise focused on fitness athletes. I have also taken courses in spinal manipulation, functional dry needling and pain science. I like to do Crossfit and weightlifting in my spare time and incorporate these principles into my practice which means that active rehabilitation is a big part of my treatments.
So whether you are struggling with shoulder pain during snatches, peeing with skipping, wanting to learn how to brace appropriately for weightlifting, or have questions about what you can do for an active and safe pregnancy and postpartum, I am here to help you!
Gabby Vautour
Physical Therapist
Read Gabby's Bio
Hi! My name is Gabby and I am one of the Physical Therapists here at South Island Physiotherapy.
Throughout my volunteer and clinical experience I have worked with people of all ages and physical abilities gaining experience with orthopaedic injuries of all types.
I received my Master of Science in Physiotherapy from Dalhousie University and Bachelor of Science in Biology from Mount Allison University where I played for the Mount Allison Varsity Women's Hockey Team. I have developed passion for helping people, improving their quality of life, and helping them to return to the activities they love. I developed this passion through my own injury experiences in sport and as a treating athletic therapist for the Mount Allison Women's Varsity Soccer team.
I incorporate my active background, manual therapy, education, and exercise-based rehabilitation to help you get back to your joy. I would be happy to work with you to discuss your concerns, identify what is affecting your limitations, and work collaboratively with you to develop your individualized treatment program focusing on your unique personal goals.
When I am not helping people, I can be found walking my dogs, golfing, camping, and playing hockey. Looking forward to meeting you soon!
Jason Nenzel
Physical Therapist
Read Jason's Bio
Hi! My name's Jason and I'm one of the Physical Therapists at South Island Physiotherapy. Navigating pain, injury, and attempting to improve physical performance can be confusing. Through years of experience in the field of orthopaedics, I have the knowledge and skills to help you understand your condition, manage pain, rehabilitate from acute/chronic injury, and pursue the life you want. My passion for Physiotherapy is influenced by my fascination with human adaption and resiliency. It's amazing what the body can accomplish when we develop a unique physical rehabilitation protocol specific to your needs. When we do, the body encounters the correct stimulus, at the correct time, in a progressive manner, and powerful change can occur. If you're interested in learning more about your body, managing pain, rehabilitating a new or old injury, and/or have a goal that you'd like to achieve – come on in and let's work together.
For those interested in my credentials, here are some highlights: I received my undergraduate degree from Vancouver Island University (VIU) in 2014. While attending VIU I received multiple awards for academic excellence, public speaking, and graduated as Valedictorian. I then received my Master of Science in Physical Therapy degree from the University of Alberta (U of A) in 2017. While attending the U of A I was elected the President of the Rehabilitation Medicine Student Association, as well as the Physiotherapy Graduate Committee, which developed my passion for organizational leadership. Currently, I'm a Director of the Board at the Canadian Physiotherapy Association (CPA) where I'm able to contribute to profession of Physiotherapy here in Canada. I also participate in frequent post-graduate courses related to my practice as a Physiotherapist. Some of these courses have included functional dry needling, advanced management of the cervical and lumbar spine, advanced management of the glenohumeral joint, and others.
Hannah Koronko
Registered Massage Therapist
Read Hannah's Bio
Hi, I'm Hannah and I have a passion for helping people live a happy, healthy life! It's one of the many reasons why I became a Registered Massage Therapist (RMT). Sessions with me include deep tissue work, myofascial release, joint mobilizations, active modalities, and the prescription of therapeutic exercise(s) tailored to your unique needs. I believe the benefit of RMT is multifactorial and involves treatment specific to your needs and helping you cultivate a deeper understanding of the resilient and adaptable nature of your body. It is through this combination of body work and education that we empower you to reclaim your best life! I am an active member of the running community through volunteering as a run clinic leader, organizing local races, and working at Frontrunners Footwear and I leverage these skills in the treatment room. When I'm not helping people through injury, I can be found trail running with my dog, cycling, climbing, and gardening.
Kyle Craddock
Registered Massage Therapist
Read Kyle's Bio
Hi! My name is Kyle and I'm one of the Registered Massage Therapists here at South Island Physiotherapy. My goal is to help improve and optimize your physical health—which also happens to be one of the most effective ways to reduce stress and improve well-being. One method in which we will achieve this is manual therapy, which includes deep tissue and Swedish massage, stretching, joint mobilizations and active techniques that require some participation. Maintaining and improving function long-term, however, requires one or both of the following: specific strengthening or activity modification.
My personal experiences with "overuse" injuries from running, cycling, and professional cooking coupled with my education and experience as an RMT make me well-equipped to provide advice when it comes to building your body's inherent capacity to endure life's challenges and continue doing what you love. I'm also always happy to chat about the fascinating nature of the human body—especially anything about muscles!
Kevin Sommerfeldt
Chiropractor
Read Kevin's Bio
Hello! My name is Kevin and I am one of the Chiropractors at South Island Physiotherapy and I'm very excited to be working with such a tight knit team committed to durable results. My experience and training in multiple treatment techniques and diagnostic systems provides a platform to customize creative and progressive treatment plans to meet your health and performance needs. Every human body is an ecosystem, with specific needs varying from individual to individual. My job is to recognize and address these complexities; developing a pathway to set you up for maximum success. I am a proud graduate from the Canadian Memorial Chiropractic College with the highest academic distinction of Summa Cum Laude. Prior to that I graduated from the University of Victoria with a degree in Kinesiology.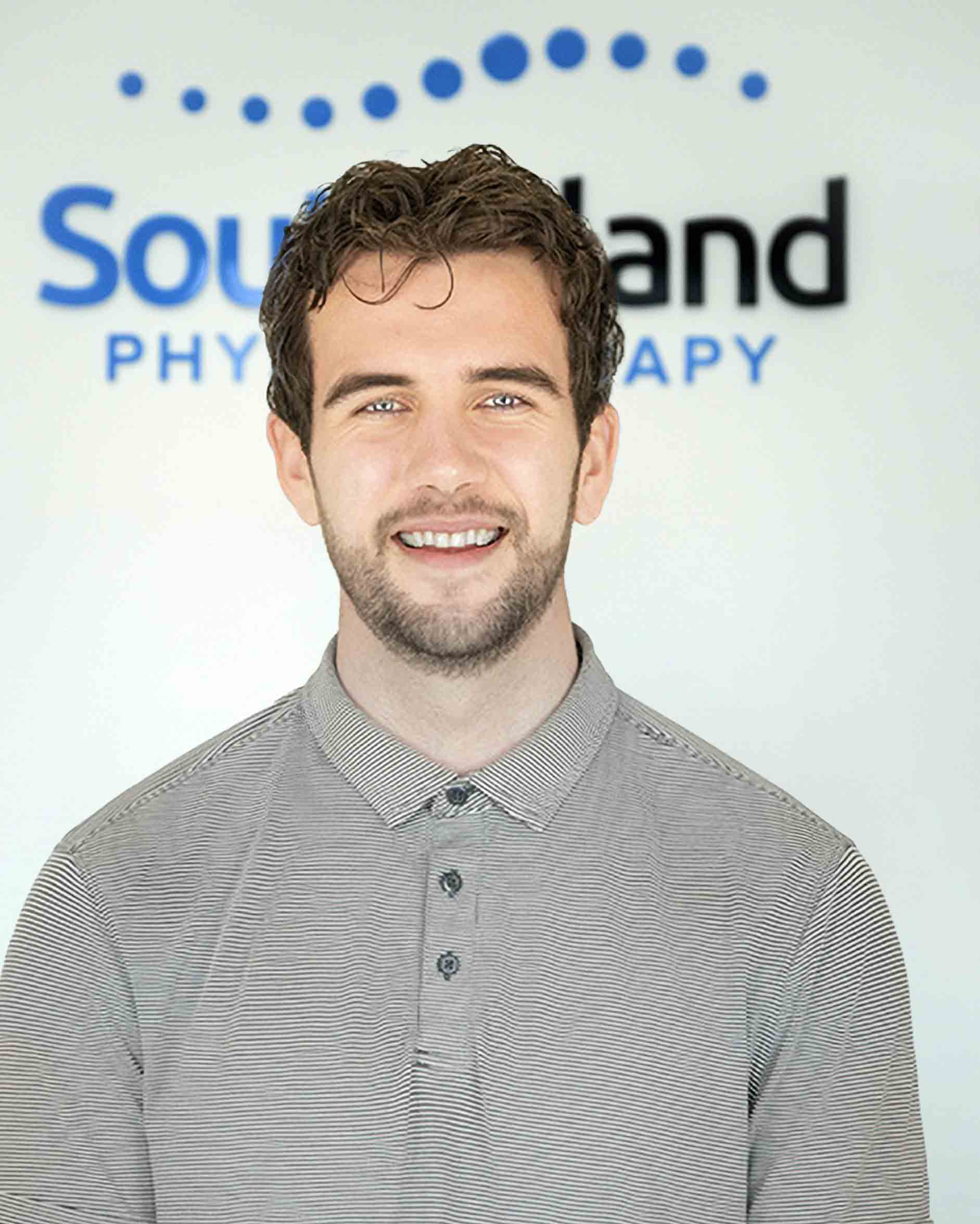 Keaton Eccleston
Registered Kinesiologist
Read Keaton's Bio
Hi there! My name is Keaton Eccleston, and I am one of the Kinesiologists here at South Island Physiotherapy. I have always had an interest in pain and injuries and I understand both personally and professionally how big of an impact they have on our lives. It is because of this I decided to get my Bachelor's in Kinesiology to help people become active again.
With the many treatment options for pain, exercise remains one of the most evidence based approaches to recover from and reduce the occurrence of injury. Although it is a power tool in your arsenal, the process can sometimes feel the most daunting. Exercise and training can be intense and at times uncomfortable. It is our opportunity to seek durable change in our bodies response to the world around us and that takes a curious mind and a courageous spirit. It is my job to guide your process, keep it fun, and clarify their importance.
In an initial session with me, people can expect to discuss their unique exercise goals, create a plan of action that meets their needs, and perform physical assessments to provide structure and clarity on your process of becoming an independent and resilient you!
If I can make exercise fun for you while progressing your recovery journey, I have done my job.
Make your move!
Jill Crowe
Office administrator
Read Jill's Bio
Hi! My name is Jill and I'll be one of the first faces you see here at South Island Physiotherapy. I have been around injuries in a variety of contexts during my career including as a Medical Office Assistant and Personal Injury Legal Assistant. That combined with my nearly a decade in customer service finds me very capable and eager to make your experience here structured, smooth, and seamless. Dealing with larger insurance entities like WSBC and ICBC, or even third party insurance, can feel overwhelming and complicated. In my opinion, this stress can get in the way of a timely and durable recovery, so it is my role and pleasure to simplify the process behind the scene, keeping you and your therapist up to date on relevant information so that you can make informed decisions regarding your care. My love of people and fitness has led me to this career in health care and I look forward to clearing the pathway to your best life.
South Island Physiotherapy